Kawasaki Bud Racing ride-on Moto
Kawasaki Bud Racing Green Baby Motorbike, equipped with large wheels and a directional handlebar – 100% made in France for children from 2 to 5 years old looking for thrills.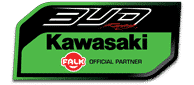 Minimum age : from 2 year(s)
Dimensions in cm (L x W x D) : 75,5 x 40 x 50
3…2…1! Are you ready to see your little rider on the Moto Carrier motorbike in the colours of the famous Kawasaki Bud Racing Motorcycle Cross Team? A faithful replica of Brian Moreau's Grand Prix cross bike, it is 100% made in France and especially designed for children from 2 to 5 years old who are looking for strong sensations. Its wide wheels provide the stability necessary for babies to develop their balance and motoring skills safely. As it is manoeuvrable thanks to its directional handlebar, your baby will feel like a champion route planner. No more excuses not to take this little bike with you every time you go out. Thanks to its light weight, it will follow you everywhere!